Add Your Property
Looking to Advertise your bed and breakfast, hotel, guest house or inn, then please read further and see just what you can get for Only £20 per year with us...
For Only £20 Per Year You Get: A Full webpage describing your establishment (i.e) property name, contact details, website and email links, ratings, opening times, tariff, full description of the property and a full description of the location of the property (NO limit on text). If you are located in one of the National Parks, your webpage will be listed both under your county and under the National Park. You will also receive UNLIMITED photographs (one of our many new features to the website) and a Google Map of your location. Includes FREE Updates throughout the year.
Facts:
No commission is charged!
What Happens After I have filled Out The Form Below?
Firstly once you have filled out the registration form you will then be requested to make an online secure payment through PayPal.
Photographs will be taken from your website or if you do not have a website we will contact you either by email or by telephone.
Your webpage will be created within 24 hours and will be put live.
We will then send you a confirmation email and if you have any changes or additions they can then be made by return email.
Sample Property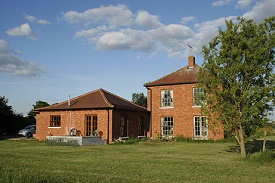 Linhay Farm
Malvern
A unique place to stay for 1 or any number of nights to suit you. Its self contained with its own entrance. We are all on 1 level and our low windows enable you to see the views outside while sitting.It has a fully equipped kitchen as well. Dogs are welcome-ask for charges. Horses can stay by arrangement and guided rides are offered. Many national footpaths radiate from the doorstep as well as...
View Property